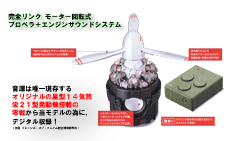 | | |
| --- | --- |
| Number of parts | About80parts |
| Size | Length About110mm(1/16Scale) |
| Material | White metal |
Realistic movement and authentic machine sound.
From idling to full speed, the propeller works as if it's real. The authentic engine sound of the Sakae 21 engine has been digitally reproduced.
We digitally recorded the sound of the Zero fighter that carries the only surviving original Sakae 21, a 14-sylinder radial engine.
here are number of restored Zero fighters.
Among them, there is one that carries an original Sakae 21 engine and can still fly.
This is the Zero fighter Type 52 owned by the Planes of Fame Air Museum located next to Chino Airport in California.
We recorded the sound of the Sakae 21 engine installed on this aircraft using the latest digital technology. From idling to its full speed, the propeller rotation synchronizes with the vigorous sound of the engine. This is a groundbreaking product as a speaker, electronics and battery are stored inside the engine model so that the sound comes directly from there.
This product was originally developed for the DeAGOSTINI magazine's "Build a Zero Fighter" series of building a 1:16 scale Zero fighter Type 21 that carried a Sakae 12 engine. However, a functional Sakae 12 engine no longer exists. Therefore the model uses the real engine sound of a Sakae 21 engine although it is slightly different in terms of gear ratio and some additional auxiliary equipment. You can enjoy the powerful sound of a real Sakae engine.