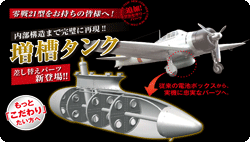 | | |
| --- | --- |
| Number of parts | About20parts |
| Size | Length About144mm(1/16scale) |
| Material | White metal |
If you pursue replica models, try your hand at recreating hidden parts!
You can put together internal parts that were shrouded in mystery.
Completely recreate the internal structure!
We decided to provide this drop tank, which is used as a battery box for the Desktop Zero, as an individual model in response to numerous requests from enthusiasts.
This is interchangeable with the battery box. You can display your real model with this drop tank, or choose the battery box to enjoy your model with lights on.